> 產品介紹 > Switching Adapter > Desk Top 桌上型電源
產品介紹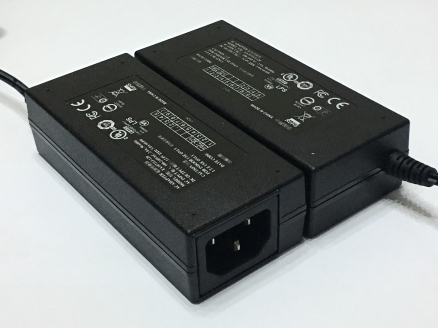 65W DeskTop
UL62368 Safety UL, CUL, TUV, CB, CE, FCC, PSE, BSMI
AC / DC Single Output Desk-Top Type Low power consumption Efficiency: ≧88.0%Meet DoE Level VI. , UL62368 IEC62368 UL/CUL UL60950, EN/IEC 60950
1-0. General Description
The purpose of the document is to specify a Single phase AC input, single output switching power supply. This specification is suitable for: EA10731JSeries
This product is AC to DC switching power transfer device, it can provide for a 12V, 5A max & 60W max DC output with constant voltage source.
This Specification defines the input, output, performance characteristics, environment, noise and safety
requirement for a power supply.



2-0. Input Requirements 2-1. AC Input Voltage
MaximumVoltage: 264Vac NormalVoltage: 100~240Vac Minimum Voltage:90Vac


2-2. AC Input Frequency
MaximumFrequency: 63Hz NormalFrequency: 50~60Hz MinimumFrequency: 47Hz


2-3. Input Current
2.0A (Max.) @ 100Vac/60Hz-240Vac/50Hz with full load.


2-4. Energy saving standards:
2-4-0.Designed to meet the following standard :
DoE Level VI


2-4-1.Efficiency
≧88.0% ( avg. ) at 115Vac/60Hz & 230Vac/50Hz input voltage and 25%, 50%, 75% &100% of max output current. Meet DoE Level VI.


2-4-2 No Load Power Consumption.
No Load Watt < 0.21W at normal line input.


2-5. Configuration
3-wire AC input (Line ,Neutral, FG)


2-6. Input Fuse
The hot line side of the input shall have a fuse, rating (3.15A/250V)


2-7. Inrush Current
≦ 60A at 110 Vac
≦ 120A at220Vac At cold start, maximumload.
2-8. Line Regulation
This line regulation is less than ±
1
%, of rated output voltage @fullload .
2-9. Hold Up Time
≧
8.3 mSec.
, @ Normal line, with full load.
2-10. Rise Time
≦
50 mSec
., @ 115V AC input, with full load. From 10% to 90% of output voltage.
2-11. Turn-ON Time
The output voltage should rise to 90% of rated output voltage in less than
3 SEC.
from AC apply to 110Vac start up.
3-0. Output Requirements
3-1. Output Voltage and Current
Output Voltage
(Vdc)
Current
Min.(A)
Current Max.(A)
+12V
0
5.0A
3-2. Load Regulation
| | | |
| --- | --- | --- |
| Voltage (Vdc) | Tolerance (%) | Regulation (Vdc) |
| +12V | +5/, -5 | 11.4~12.6V |
3-3. Dynamic Load Regulation
±5%
excursion for
50% - 100%
or
100% - 50%
load change of DC output at any frequency up to 1KHz(duty 50%)
3-4. Ripple &Noise
The power supply shall not exceed the following limits on the indicated voltage for 60Hz or 50Hz ripple, Switching frequency ripple and noise and dynamic load variations measured with a 20MHz bandwidth
| | |
| --- | --- |
| Output | Ripple/Noise |
| +12V | 240mV |
Input condition : for rated voltage , Output condition : for max load Ripple / Noise: 60Hz ripple + switching ripple and noise
Ripple & Noise are measured at the end of output cable which are added a 0.1uF ceramic capacitor and a 47uF electrolytic capacitor
3-5. Over Voltage Protection
175% Max. of ratedvoltage.
The output voltage shall be shutdown and auto-recover mode when OVP occurred.
3-6. Over Current Protection
110~180%
output current. At 100-240Vac input,
The adapter can withstand continuous short at DC output and no damage. It will enter into normal condition if the fault condition is removed.
3-7. Stability
2%
Max. at constant load with constant input (after
30 minutes
of operation).
3-8.Temperature Rise (Optional)
Less than 45℃ on top/bottom case at normal AC input & 80% load of DC output at environment temperature 25℃.
3-9. Drop-out
Output voltage shall remain within the specified regulation range, through the absence of a line input during 1/2 cycle, at full load and normal AC line input
3-10. Voltage Isolation
The DC ground will be isolated from the AC neutral and AC line.
4-0.Reliability
4-1. MTBF ( MIL-HDBK-217F )
The power supply shall be designed and produced to have a mean time between failure ( MTBF) of 100,000 hours at 25 degrees C.
5-0. Environment
Temperature

Operating : 0 to 40℃

Storage : -20 to 85℃
5-2Humidity
Operating : 10 to 90%
Storage: 5 to 90%
5-3Altitude
From sea level to 5,000 Meters ( operation ) and 5,000 Meters (no operation)
6-0. Safety
6-1. Hi-Pot Test
3000Vac/4242VDC, 3mA 2Sec.
between primary and secondary circuit
L,N to FG 1800Vac 3mA 2Sec.
6-2. Insulation Test
500Vdc, 2 Sec. between primary and secondary circuit IR should ≧
50 MΩ.
6-3. Leakage Current
≦
500uA
, at 240Vac/50Hz
6-4. Safety
UL, CUL, TUV, CB, CE, FCC, PSE, BSMI
6-5. EMS
Items
Specification
Reference

ESD
Contact: ± 4KV

IEC 61000-4-2
Air: ± 8KV
RS
Frequency: 1KHz Field Strength: 3V/M
IEC 61000-4-3
EFT
1.0 KV on input AC power ports.
IEC 61000-4-4

SURGE
Line to Line: ± 1KV (peak)

IEC 61000-4-5
Line to F.G : ± 2KV (peak)
6-6. EMI
Comply with Standards
CISPR 32, EN 55032 Class B
FCC (PART 15 CLASS B)
7-0. Mechanical Characteristics
7-1. PhysicalSize:
105.5mm (L) * 46mm (W) * 28mm(H)
7-2. Enclosure material
:
94V-1
minimum
7-3. Output Cable (Reference) : UL2468 #18
7-4. Vibration Test
The vibration frequencies are set at 20Hz, with total amplitude of 1.5mm Along the 3 directions namely X-Y-Z. The each direction should be vibrated for 60 minutes, after testing no abnormal electrical or mechanical shouldoccur.
7-5. Drop Test
(Referencing to CSA C22.2 No.950/UL1950/UL1310/ EN62368) Products shall be dropped from a height of 1000 mm onto a horizontal surface consists of hardwood at 13mm thick , mounted on two layers of plywood each 19mm to 20mm thick , all supported on a concrete or equivalent non-resilient floor. Upon conclusion of test , the equipment cannot into hazardous moving parts and hazardous voltage circuits need be operational , and need meet Hi-Pot specification requirement..
7-6. Net Weight
(Reference) :
300 g